Glasses and Sunglasses
At Monroe Family Eyecare, we understand that glasses are more than important tools for correcting your vision. The eyeglass and sunglass frames that you choose are important fashion accessories and express your personal style. Our team of eye care experts will help you find the perfect prescription and the perfect look.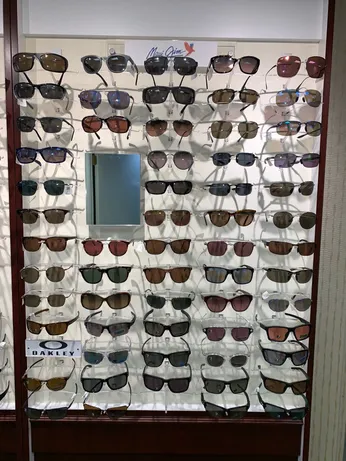 Eye Exam
The first step toward finding your new favorite pair of glasses is to have an eye exam performed by an optometrist. One of our eye doctors will assess your eye health and determine the prescription strength that gives you the sharpest vision. The eye exam also determines if you need extra correction in your lenses for mid-range or reading vision. After your prescription is written the next step is browsing our large selection of frames.
Eyeglasses
Monroe Family Eyecare is the only stop you need to make when shopping for eyeglasses. We carry a large variety of frames made in both metals and plastics. Options range in color from the palest pastels to bold blacks and browns. We stock frames by some of your favorite designers like Jimmy Choo, Tom Ford, and Armani.
Eyeglasses also come in an assortment of shapes. Our staff will assist you in finding the most face-flattering frames by paying special attention to your facial features that can be enhanced by details like a rounded edge or a dominant brow line. We can also help you choose from the different features and coatings of the lenses themselves.
Sunglasses
There is no need to squint in the sunshine just because you wear prescription lenses. Our team at Monroe Family Eyecare can provide several options in prescription sunglasses from popular brands like Maui Jim, Ray-Ban, and Oakley. Our sunglasses are also available without any prescription correction at all.
Specialty Glasses
Our extensive inventory also includes specialty items like sports goggles and motorcycle glasses. When it comes to eyewear, we have everything that you need.
Schedule an Appointment Today
Whether you need eyeglasses or prescription sunglasses, the first step is an eye exam. Call us today at (845) 783-1224 or contact us through our website by using our contact form. We have choices in eyeglasses and sunglasses for adults and children. Monroe Family Eyecare in Monroe, New York is dedicated to providing the best eye care for you and your family.